Meet Dr. Connie-Sue Larcher, D.C.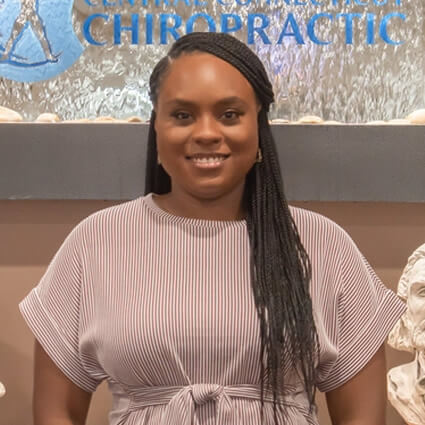 Dr. Connie was born on the small island of St. Lucia and emigrated to the U.S at the age of 15 yrs. old. From a young age, she always had the aspiration of being a doctor. As she got older, she started leaning more towards the holistic side of medicine but had no clue what direction she wanted to go. In 2015, her mom started experiencing excruciating back pain. After visits to different doctors and having multiple tests done, no one was able to tell what was wrong and no treatment relieved the pain and discomfort her mom was experiencing. As a last resort, she went to a chiropractor and within a few days, she felt remarkably better. From that point it became her mom's mission to get everyone in her household under chiropractic care. After seeing how chiropractic helped her mother, she had to experience it for herself. After her first adjustment and a conversation with her chiropractor about all the benefits of chiropractic care, Dr. Connie's chiropractic journey started.
After graduating from the University of Saint Joseph with her Bachelor's in Biology in 2015, She got accepted to Palmer College of Chiropractic (Florida) that same year. For the following three years, she learned the philosophy, science and art of chiropractic and trained under some of the best doctors in the profession. Dr. Connie has had additional training and certifications in Activator technique, Flexion Distraction and Instrument assisted soft tissue mobilization. She graduated with her Doctor of Chiropractic degree in 2017. After working in a few offices in Florida and Connecticut, she has found a home at Central Connecticut Chiropractic, where she is proud and enjoys serving the wonderful people of the town of Cheshire.
---
Dr. Connie-Sue Larcher | (203) 272-3239