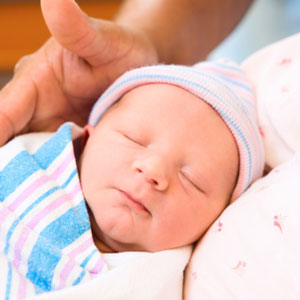 Baby season is here! The fact is, more babies are born during summer than any other time of the year. It's also a fact that, according to the Journal of the American Medical Association, "the number of children visiting Doctors of Chiropractic is substantial and is increasing." There's a reason for that. As many parents know, pediatric chiropractic care is a safe and effective way to keep your baby healthy today, and as they grow. New Baby?
All parents are relieved when their children are born healthy. They have all their fingers and toes, and you are just so overjoyed for those first few weeks. That is before colic sets in. Then your world is turned upside down as the frequent, prolonged, and intense crying and fussing begins – for apparently no reason – in your healthy, beautiful baby.
It's both unnerving and frightening. And it can go on for months. A trip to the pediatrician, after an examination, will usually result in advice such as taking the infant for a ride in the car, rocking them, walking in a stroller, using a pacifier, and playing soothing sounds such as a heartbeat or white noise. You try them all. Yet you are often unable to relieve your child's dis-ease.
Grow with Pediatric Chiropractic Care
Studies show – and thousands of parents already know – that gentle chiropractic adjustments will remove any nerve interference and alleviate symptoms of colic. Actually, pediatric chiropractic is a safe and life-changing practice that helps children heal naturally from all types of conditions. Whether it's an infant who has recently experienced the trauma of the birth process, a toddler learning to walk and all the falling that entails, or a child already experiencing sports injuries, chiropractic care can provide help to people of all ages.
Childhood issues such as these all cause problems in the spine and nervous system. These problems can lead to developmental challenges as they grow, affecting all aspects of their health, including their immune system.
Even with illnesses and conditions such as ear infections, ADHD, autism, and the like, chiropractic care will help your child stay healthy and drug-free as they grow. And unlike trips to the pediatrician, chiropractic care does not result in pharmaceuticals being prescribed. According to the National Health and Nutrition Examination Survey of 2015 – 2016, 18% of children aged 0 – 11 years old reportedly used prescription drugs in the previous 30 days. Parents appreciate the effectiveness of the drug-free approach of chiropractic care.
Interested in finding out more about pediatric chiropractic care? Contact us for information and visit our website for great content! It's never too early for your loved ones to start living at 100% for 100 years or more.