Central Connecticut Chiropractic Reviews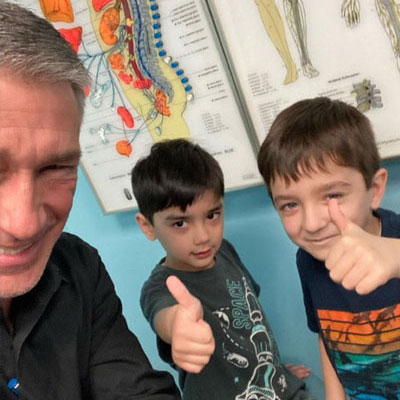 What Our Cheshire Patients Say
At Central Connecticut Chiropractic we love when patients share with us their feedback and comments after chiropractic care. Please read our patient testimonials below to see what other people have achieved through their tailored treatment plans with us.
Share your stories too! Click here to send us your feedback so that we can help to spread the word about the benefits of natural Central Connecticut Chiropractic care. For more information, or to schedule an appointment contact us today.
Chiropractic has health and life changing benefits for all ages."
Dr. Luigi DiRubba
---
Excellent office and care!
Quality Chiropractic care and Doctor's excellent bedside manners, Wait time minimal, Customer Service by staff was excellent & engaging, Environment clean and professional office!!! Excellent office and care!
-Sylvia T.
I Was Pleasantly Surprised
As a chiropractic sceptic, I was pleasantly surprised by the results of my first visit where the good doctor worked his magic! My range of motion is so much better in just one visit I'm actually looking forward to many more . Thanks doc Luig!
-Christopher S.
Welcoming Atmosphere and Friendly Gracious Staff
My first visit was just before Thanksgiving. The need was desperate! The experience was more than I hoped for. I enjoyed giving a special thanks for Thanksgiving and have found the perfect spot for me. The welcoming atmosphere and friendly gracious staff made it complete.
-Patricia P.
Get Your Spine Adjusted
About 20 years ago or so, I started having occasional brief episodes of neck and shoulder stiffness and pain, which sometimes traveled to my back. I would be somewhat incapacitated for a few days and then recover. In more recent years, it would be so severe that I would think of seeing a chiropractor, but I recovered in a few days, so I never went to one.
In June of this year (2022), I developed a stiff neck by lying on my bed in a poor position. I ignored it and did certain things, which made it worse. It got so bad that I had difficulty looking up at traffic lights when crossing the street. I would just watch the traffic to know when to cross. I finally decided it was time to see a chiropractor and made an appointment at Central Connecticut Chiropractic.
Dr. DiRubba X-rayed my neck and found that it was way out of alignment and the cause of my declining health and weaknesses. With the first adjustment, I experienced relief, and now I can look up at the sky with no discomfort. My posture is straighter and I walk taller and with more confidence as I continue my care.
I would tell people with severe neck and back pain to go to a chiropractor! I would heartily recommend Dr. DiRubba. He really knows what he is doing. I would also say to those who are already undergoing chiropractic, "Do your exercises". They really help to strengthen your neck and back. I am 78 and plan to do these exercises for the rest of my life as a means of prevention.
– Robert W.
From My Heart to Yours…
Not only has Dr. DiRubba finally found a long term solution for my Sciatickand hip issues but, he has also brought back comfort, flexibility, and strength to my left hand an wrist which have been limited movement since my youth.
After various childhood surgeries, I was told movement would be very limited in my wrist and had multiple doctors confirm this. Dr. DiRubba took a second look and has been making adjustments that have at least doubled my movement so far. I could not be more excited to see how much my health will continue to improve with Dr. DiRubba and could not recommend him enough.
-Josh
Chiropractic Care Has Changed My Life
I first starting coming to Central Connecticut Chiropractic in November of 2010 after a friend told me about the office. I started coming to the office it due to debilitating lower back and sciatica pain due to overworking myself in my daily activities. This pain interfered with my daily activities because I would have to pace myself to get through the day and be careful as to what tasks I took on. This pain had been going on for 30 years and I decided to try Chiropractic because nothing else seemed to work. I had run the gamut of healthcare practitioners: my G.P., and orthopedic doctor and tried physical therapy. I also tried anti-inflammatories and nothing helped. I'll admit I was a little doubtful of Chiropractic at first because of my past history and treatment for pain. The staff is very professional and helpful and the doctors are very knowledgeable and always attentive to my problems. Chiropractic has allowed me to work most days be eliminating bouts of debilitating pain. Also, the adjustments help keep me more flexible. I began to see results from my care within a few weeks. Chiropractic care has changed my life by allowing me to function better, especially with my job. Household chores has also become easier. My words of encouragement for anyone considering Chiropractic are that it never hurts to try something new – you might be pleasantly surprised!!
-Bob P.
From My Heart to Yours…
26-year-old male with Sciatica issues since High school. Had a terrible flare-up a couple months ago and Dr. DiRubba saw me as a new patient within an hour of my emergency phone call.
Any other doctor gave me pain pills and pamphlets whereas Dr. DiRubba listened to my pain and symptoms, took X-rays and did various other tests to find the root cause of my years of pain. We had a plan of attack by the next day.Since then not only have I felt ten years younger and in better health than I thought possible, but I have built bonds with Dr. DiRubba and his entire staff that have me look forward to my next visit every time. If you are living with any kind of uncomfortable issues you need to schedule a meeting with these guys and you will never regret it.
-Josh K.
I Feel Very Positive
I wish every medical center and doctors were as nice, kind, professional, good communicators and empathetic as Dr. DiRubba. I was finally able to understand my neuromusculoskeletal problems and I feel very positive about the treatment/solutions provided by these great Doctors.
-Shade B.
Extremely Reliable, Flexible & Compassionate
It is extremely hard to put into words just how amazing Dr. DiRubba and his team at Central Connecticut Chiropractic are, but here it goes! I was working as a social worker for the Department of Children and Families at the time, and a colleague of mine highly recommended Dr. D and his team followed by my continuous complaining about lower back pain. Sitting at my desk and constantly being in the car for hours, had really started to take a toll on me after two years in the role. Following a surgical consult and a recommendation to start pain injections, I decided to give chiropractic care a chance, and I am eternally grateful that I did. Dr. DiRubba's care has changed my life completely, and I am finally able to enjoy activities such as running again with much less pain and no need for injections! Dr. DiRubba believes in taking care of the mind and the body, and always makes sure to provide effective recommendations for anything that is asked of him. Dr. D and his team of dedicated staff are extremely reliable, flexible, and compassionate about what they do on a daily basis, and I highly recommend their care!! Thank you again for all that you do!
-Ashley D.
Recommended by Personal Friend
I have been going to Doctor DiRubba for over five years and I don't know where I would be without him! Not only does he align and help my body feel at it's best for soccer, he also helps my body adapt and get stronger for the future. Prior to seeing Doctor DiRubba my posture while walking, running, and playing soccer was atrocious. This bad posture due to years of wear and tear, and sadly was holding me back, until I met Doctor DiRubba. He explained to me how bad posture due to the issues occuring in your back can cause you to not have the proper mechanics to run, dribble, and play at the best of your ability. The results from that day forward were truly amazing, and it allowed me to become quicker, more agile, and stronger as well. Without Doctor DiRubba I wouldn't of been able to transform as I did. Thank you Doctor DiRubba for all you have done for me!
– Joseph F.
I'm Always Amazed
Great place and great professionals! I'm always amazed at how quickly I am in an out, and how much better I feel after going! I am so glad I started on this journey!
– Ashley D.
Recommended by Personal Friend
Dr DiRubba was recommended by a close personal friend who was in a severe pain for a long period of time. He told me Dr. DiRubba made it possible for him to get back to a normal life after suffering for so long with debilitating back and neck pain.
– Carl S.
Truly Amazing
I have been going to Doctor DiRubba for over five years and I don't know where I would be without him! Not only does he align and help my body feel at its best for soccer, but he also helps my body adapt and get stronger for the future. Prior to seeing Doctor DiRubba my posture while walking, running, and playing soccer was atrocious. This bad posture due to years of wear and tear was sadly was holding me back, until I met Doctor DiRubba. He explained to me how bad posture due to the issues occurring in your back can cause you do not have the proper mechanics to run, dribble, and play at the best of your ability. The results from that day forward were truly amazing, and it allowed me to become quicker, more agile, and stronger as well. Without Doctor DiRubba I wouldn't have been able to transform as I did. Thank you Doctor DiRubba for all you have done for me!
– Joseph F
I Am No Longer a Skeptic!
When I first started chiropractic care at Dr. DiRubba's office, I was a skeptic, but I was desperate for help. My entire system was a mess and I was in constant pain – Neck and back! Immediately after my first adjustment, I felt relief. Although I still have setbacks, I regroup more quickly and enjoy longer intervals of mental and physical wellness. I am no longer a skeptic! Thank you Dr. DiRubba.
-Ingrid M.
Changed My Outlook On Life
Dr. DiRubba has changed and continues to change my entire outlook on life. I am not only feeling better physically but mentally as well. It's been a long time since I've had such a great outlook on life. Also, everyone that works in the office is pleasant and courteous. I would highly recommend this practice to anyone seeking chiropractic care.
-Jeff R.
Love Doctor And Staff
Love Dr. DiRubba and his staff! Everyone is extremely friendly and helpful. I started feeling better after my first adjustment. I have already recommended CCC to friends and will be a life-long patient.
-Melanie Y.
Friendly And Helpful
I would like to thank Dr. DiRubba and his staff for seeing me on short notice. The adjustment was very helpful and your staff was very friendly and helpful. I will be seeing you again when I am in town.
-Dwaine S.
No Band-Aid Effect
I have been to a few different chiropractic offices (three in total). I finally feel like there is light at the end of my tunnel of pain. I am so glad I switched. Thank you for taking the time to identify my issues. Now, it is truly known how to treat them.
How can my problems be fixed if you really didn't know what they were to begin with – I always wondered of that with the other offices I visited: no x-rays were ever taken. It was thought and or treated as all just muscle issues but my x-rays showed a much different picture. I honestly and truly feel the difference right from the first visit. It's like a weight has been lifted from my shoulders literally. It's no longer the Band-Aid effect but actual results. I can't thank you enough.
-Lisa G.
Expect Miracles?
At my first visit I couldn't even move my neck. In order to look to my right or left I have to turn my whole body.
Now as simple as it sounds, since getting adjusted I can look out my rear view mirror without wincing with pain. I can turn to look at my daughter when she is calling my name. I can even blow dry my hair where as before I couldn't because of the stiffness in neck. The heat seemed to aggravate it even more too.
I've been coming to Dr. DiRubba's for about a month now and I just noticed the sign at the front desk "Expect Miracles" How Ironic!
Finally being okay and being able to notice your surroundings, especially the things around you that bring a smile to your face truly is a miracle. And now realizing how much I enjoy being okay and being able to move again… Priceless!
– Angelina
Shifted Thinking From Pain Management to Overall & Continued Well-Being
About 11 years ago I began my chiropractic treatment for relief from lower back and leg pain. This discomfort was making it difficult to fly or drive on trips for more than two hours. With relief in sight and a few days of treatment in hand, I thought about continuing my treatments. Soon I took action and set up a series of regularly scheduled appointments.
This was one of the wisest actions I ever took to maintain my well-being on a regular basis regardless of the presence of aches and pains. I made the shift in my thinking from pain management toward overall and continued well-being all the time.
Presently at the age of 71, I am playing senior basketball, full-court, twice a week; on the tennis court for singles matches (both practice and tournaments) five to eight times a month; in the weight room twice a week and teaching three courses (interacting with 65 first-year students) each semester at Quinnipiac University.
I know that my mental and spiritual health benefits from my activities as well as my physical and emotional health, and that a systematic program of chiropractic care contributes to my continuing well-being.
– Bruce F.
Pain Free Thanks to Dr. DiRubba
One morning I woke up in such pain I couldn't get out of bed without help from my husband. I had great difficulty walking throughout the day, even with using a cane. The next day I looked in the yellow pages and found Dr. DiRubba. I called and he took me in that same day. After x-rays he saw that my spine was completely out of alignment. He adjusted my spine three times a week for the next month and not only did he relieve the pain, but he had me walking without a cane.
I know I am able to hold down a job and continue to be pain free! I have continued to get adjusted one time a week for the past several years to keep my spine properly adjusted.
I thank Dr. DiRubba for his constant service and enjoy his well-mannered staff.
– Debbie S.
The Results of Your Chiropractic Care Have Been Astonishing
Since having been referred to you three years ago by a friend, the results of your chiropractic care at this time have been astonishing. Having barely been able to walk or even stand up, you said you could help me after evaluating the conditions. Incremental improvements have proven this to be true.
Seeking medical help for many years with no lasting solution led to the realization of how much better quality of life would have been had I chose chiropractic initially. Being medically treated for intermittent issues eventually only led to permanent ones. Like no others, you listened to and believed in what I was saying. Affected positively in more ways than expected, the transition from debilitated to invigorated refurbishes the body and delivers a state of mental clarity. Restorative powers have worked so well for me is why I introduced my son to chiropractic care.
Thank you to all of the excellent people at Central Connecticut Chiropractic for their help, attention and patience.
– Sincerely, Robert M.
Choosing Chiropractic Was One Of The Smartest Decisions I Could Have Ever Made
I had the benefit of experiencing chiropractic care for the first time in middle school when I woke up one morning and turned my neck the wrong way, and I couldn't straighten it out. My Mother, thinking I just slept on it funny sent me off to school, but I was in pain throughout the entire day, so much so that I left and was brought to Central Connecticut Chiropractic where I met Dr. Luigi DiRubba. I had two choices:
To go to the hospital where they would have put me on painkillers and muscle relaxers not solving the actual problem, OR
Take a chance to put my health and the outcome of my overall well-being into the hands of Dr. DiRubba.
I chose option 2, and it was one of the smartest decisions I could have ever made. Within a matter of weeks my neck was able to naturally return to its rightful place, but even more importantly I was able to learn what it meant to take control of my health, and the direction I wanted to go in.
There are many people out there today that are doubters of what chiropractic care can do for them. All I can say is that you never really know until you try. I did, and I will forever be a believer that not only can it work, but also chiropractic care can change your life. It really is YOU who has the power to make it happen.
– Lauren C.
Dr. DiRubba Assisted Me in Having a Better Pregnancy
I started seeing Dr. DiRubba because I looked five months pregnant when, in reality, I was barely 3 months along. The hormones in my body had kicked in early apparently. I walked through his office door with my lower back curved inward, my shoulders uneven and slumped, and a small list of complaints. My chief complaint: I ached all over and couldn't sleep. I knew that I couldn't go through my entire pregnancy like this. I had work, a household to run, and a 3 year old to run after!
The first thing I noticed after my initial adjustment was that I was calmer. I seemed to have more patience with myself and others. Maybe it was because I slept better, or didn't ache like before, I don't know. What I do know is that, even after one adjustment, chiropractic had affected my world in a positive way. It was after the second adjustment that I visibly noticed a change in my posture. I stood straighter, my baby belly was smaller and tighter and I actually got into a pair of size 6 jeans again! (Remember, I was already 3 months pregnant.) This trend has continued throughout my care with Dr. DiRubba.
I also have a physically demanding job working with children and adults with various disabilities. I continually have to change positions, sometimes working from a chair or the floor. Sometimes I have to lift a child or patient, weighing upwards of 100+ lbs. My body needs to work for me. Chiropractic care during my pregnancy has made it possible for me to continue to be flexible and strong. This is also important when it comes to my birthing goals. Above all else, I can say that my care and my goals have always been Dr. DiRubba's top priority. He continually supports me, reassures me, and always imparts knowledge at each visit. Dr. DiRubba not only assisted me in having a better pregnancy, he showed me that there is something better than the "traditional" medical model.
– Heather B.
Chiropractic has helped me with my Heel Pain, Leg Cramps, Shoulder Pain, Breathing Constriction and Anxiety
I would like to share my testimony about my results of chiropractic adjustments with Dr. DiRubba. I have been experiencing chest constriction daily for the past 6 years as a result of stress and anxiety. I had no problem breathing but most of the time when I yawned, sighed or just tried to take a deep breath I felt like I couldn't get enough air into my lungs. I went to one doctor who had me breathe into a machine to check for asthma. The doctor said to me "You show no signs or symptoms of asthma but I'm going to treat you for it anyway". Now how ridiculous was that! Needless to say I never went back to that quack!
I went to a gastrointestinal doctor for stomach problems. He believed that from the symptoms I was telling him I was suffering from severe anxiety. He suggested I go to my regular doctor who would prescribe something for my anxiety. Well, I don't like to take any kind of drugs unless absolutely necessary. So, instead of going to my doctor I went home to my computer and learned soooo much about anxiety. I learned to de-stress my life and my health became very important to me. Over the past 6 years my anxiety improved but I still struggled daily with it and especially with that one symptom of not being able to take a deep breath in when I yawned. Sometimes even when I had to sneeze I couldn't get enough air into my lungs to make that big sneeze. I was frustrated but learned to deal with it and figured it was something I probably will have to live with for who knows how long.
That was until six months ago when my husband suggested that I see his chiropractor, Dr. DiRubba. When I started seeing him back in June of 2008 I had pain in my left heel, nightly leg cramps in my right leg, periodic pain in my left shoulder and of course my breathing constriction. Now, after having chiropractic adjustments for 6 months, I can honestly say that my heel pain is completely GONE, leg cramps GONE, shoulder pain GONE and breathing constriction is 98% better as well as my anxiety. It is wonderful to being able to take a deep breath when I need to yawn or sigh or sneeze. I only wish I had known Dr. DiRubba 6 years ago instead of 6 months ago because I would not have had to suffer for so long like I did.
Thank You so much Dr. DiRubba.
– Nancy W.
Patient of the Month – July 2007
I accidentally found Central CT Chiropractic when I was working at the Cheshire Spring Marketplace. Earlier in the week while exercising at the gym which I had been doing the same routine for 4 years I wrenched my back the wrong way. I hoped it would work itself out by the end of the week. Well fortunately for me it hadn't.
When I meet Dr. Keith Mirante I had a therma care pack on my back lots of Motrin in my system and still couldn't stand up straight yet alone exercise. So at the end of my shift I went over and asked could he help me. He was more then happy to talk to me and setup an appointment to get me in right away. It was very obvious to everyone I was not quite myself. So I made my first appointment that next Monday and all I wanted was him to fix my back. I was anxious as anything because all I wanted was to stand up straight. We went over my health history and I told him how I had very bad allergies. That for the past few years I have had to go to an allergist to get shots because extra strength benadryl wasn't enough and Claritin (don't get me started on that) wouldn't do. So he said he could help me with that. I was quite the skeptic and thought how could fixing my back fix my allergies. Boy was I wrong. On one of my visits Dr. Keith asked how was I doing and I stated stuffy and he said let me fix that. He did I was still congested but yet could breath completely I had never experienced anything like it before, and kept telling anyone who would listen.
I love to say how this experience has been one crazy ride. Because in the beginning strange things would happen, old aliments came back but then went away, after the next visit, hopefully for good. So now when ever I see anyone who is complaining of allergies I tell them try a chiropractor and then say make sure it is a good one and if they want a name I give it to them. Now mind you because I am a Realtor® people seem to think I am going to pressure them to buy or sell a house. So they already get a bit defensive. But some think I am nuts when I tell them. But if someone told me I probably would think the same thing. Hopefully the more people we all tell the better chiropractors reputations will get. Because now I breathe so much better and pretty much drug free the only thing I take is a mild decongest late at night so I don't have a runny nose at night while I sleep and for some reason late in the evening is when it starts. But that is leaps and bounds from were I was six months ago and a year ago I wouldn't leave my house with out extra Benadryl because like clock work it would wear off by the 5th hour and I would be miserable. I was told I am allergic to tree pollen and tree born fruits. I definitely am allergic to cherries and plums. Since those are my favorite fruits and if I ate them my face and lips would swell up and my throat would begin to close and I would have a difficult time breathing. I can't wait to see if I can eat those this year since I am breathing so much better and those pesky trees are not affecting as they used too. I will keep you informed.
As for my back that cleared up quickly and my circulation to my hands and feet has improved as well. So I take the recommended vitamins that Dr. DiRubba suggested and my regular doctor was very pleased to hear. And overall I am feeling better everyday. I have gotten past the fear of Chiropractors and now can't imagine not going. The energy and enthusiasm of the doctors is great and I tell all my friends about them. I would love my friends to come and receive the benefits of their treatment. I walk better, I have bad knees (patella femoral syndrome); stand better, breath better, all of this without having surgery or drugs.
I wish I stumbled into Dr. D & Dr. K years ago… but better late than never.
Sincerely,
Alicia Lincoln
My Pain Kept Getting Worse to Where it Was Almost Unbearable
My name is Lisa and I want to share my remarkable testimony. Here is a little bit about my health history. I am 23 years old and have had 6 surgeries; my first was when I was 16. I was diagnosed with severe endometriosis. This is a painful chronic disease. I would be doubled up in bed for weeks with unbearable pain and bleeding during my cycles. This is what my life had been like for years! I was on all kinds of painkillers through out this time. I even had a year and a half of Lupron shots, to shrink the growths, which took all the estrogen out of my body. The side effect of this drug was a deterioration of my bones and muscles. I have been on every type of birth control. My doctor ever had me take two birth control pills every day along with birth control shots. This went on for several months, making me absolutely sick.
Last July I had my fifth surgery, which was a harmonic scalpel, laser and laparoscopy which I had because my problems were escalating to where I could hardly function in my daily activities. After my doctor, head of OB/GYN, operated on me, he told me that he could not do anything more to help my condition and that I needed a hysterectomy. I was devastated. I found out about a woman's specialist in Houston and went to him for a second opinion. He said that he could save my uterus but he would have to do a major surgery. October 2004, I was cut 8 inches across my lower abdomen. I had complete reconstructive uterine surgery and in my lower back sacral nerves were dissected. This was one of the worst things I have ever been through. The doctor assured me that my problems would be over for a while. Keep in mind that this surgery would only buy me about 6 years to have a family and then I would need to have a hysterectomy.
Less than a month after the surgery I was riding home with a friend, and we were in a car accident. We were hit very hard from behind. This was not good considering my recent surgery. Immediately after the wreck I could hardly turn my head. I went to the emergency room and they did all kinds of x-rays and a CAT scan and then told me that everything was fine but I had a neck and back sprain. They gave me some Vicodin and sent me home. I have a pretty high pain tolerance so I put up with the neck and back pain hoping it would go away. My pain kept getting worse to where it was almost unbearable.
One day in January my mom and I were out running errands. Mom said she had a Chiropractic appointment. I told her that I would drop her off at home because I didn't want to go with her. I didn't think very highly of Chiropractors because I had a really horrible experience with one. It only took once to make me never want to go again. I was irritated that my mother was even going. Well, we lost track of time and we were almost late to her first appointment at the Chiropractor. I sat in the front while my mom went into the back. Dr. DiRubba invited me to sit and listen to the doctor's report. What he had to say sounded interesting but in the back of my mind I was completely skeptical. He asked if I had any questions and I drilled him as hard as I could. He surprisingly had wonderful answers to my questions. I told him about my accident and how my back was hurting all of the time. From the information I got, I thought maybe he could help my back. Plus he was nice and seemed caring and gentle, unlike the other Doctors. I sent my CAT scan and x-rays from Covenant for him to look at. He found some serious problems with my spine. The lumbar segments in my back were crooked and my pelvis was tilted. He also performed a nerve study on my spine. My skeleton was extremely out of alignment and I had no idea. "This wreck was like the straw that broke the camel's back." Before this wreck I didn't know how bad the condition of my spine was. Dr. DiRubba pointed out that the misalignment of my spine lead to my female organs, yet I had not told him my full history about my problems. Since my surgery in October, I was still on all of my pain medications and thought I would always have to depend on them for quality of life.
I started my treatments from Dr. DiRubba on January 7, 2005. Since the day I started receiving these treatments, a miracle has happened. Never in my life have I had a PAIN FREE menstrual cycle. For the past 3 months I have had a pain free menstrual cycle every 28 days and they have dramatically shortened in length! Also for the past 3 months I have not been taking any medication. This is the best I have ever felt in my life! It's funny that I went to the Chiropractor because of my neck and back pain but not only has he helped that area, I have received inner healing in my female organs. Now I have a future filled with hope. I appreciated my Chiropractor's care and concern in helping everyone receive quality chiropractic care. It took this wreck for me to realize that Chiropractic help is more than I ever dreamed it could be. I am glad I sat in on the doctor's report with my mom because I might have never known how much healthier I could be with Chiropractic. My life is changed forever and I tell everyone I see about my Chiropractic care, thanks to Dr. DiRubba and his office.
Sincerely,
Lisa
Five Stars for Dr. DiRubba
My back problems started when I was nine years old. I was riding a bike in the street and a car forced me to the side, causing me to hit the rear of a parked car and landing on its trunk. The result was a back injury or subluxation causing me to have one hip higher than the other. My mother took me to an orthopedic doctor who suggested I have an operation to remove the affected disc. My mother would not allow them to do this. The other option was to have a specially made stainless steel back and hip support I had to wear for three months. The support and taking hot soaking baths helped me to recover. My family didn't know about chiropractors at the time.
I worked on construction for over 40 years and during that time I had many back problems, i.e., a disc would pop out and I would be laid up for a while. I had a couple of bad falls – once off a roof about 12 feet high, landing on my shoulder and neck. I got up and walked away. Another time I fell on ice, again falling onto my shoulder and neck. My body has been through many mishaps between falls and carrying millions of pounds of building material.
I made numerous trips to doctors. Many said I had arthritis. About five years ago I went to a chiropractor who said my case was hopeless. I couldn't bend or put my shoes and socks on in the morning. My wife had to help me every day so I could get to work. I couldn't get into or out of the car without pain. The only vehicle I was able to drive or ride in was a van or truck. To go on a trip was most difficult, as I would have to stop every hour and get out and walk because the pain was shooting down my back and leg. One weekend I was in so much pain that I could not even lie down or move. Luckily my son made an appointment for me with Dr. DiRubba. After an adjustment I was able to walk without help from his office. After a few years of treatment by Dr. DiRubba, I am in better health and shape than when I was 40 years old. I no longer have stomach problems due to continued adjustments. My neck has been straightened out and I can now drink a full glass of water without stopping two or three times. I am rarely sick and am able to do just about anything I want to do.
In my opinion, doctors are like mechanics – there are good ones and those who are not. Dr. DiRubba definitely falls into the first category. He gets five stars from me.
Mike
Enclosed is a letter I received from my patient, Shelley. The changes in Shelley since beginning her chiropractic care have been the talk of our office. When she first came to see me, her speech was so distorted by her facial spasticity that she was hard to understand. She walked with difficulty and her left foot was turned inward almost 90 degrees.
If it wasn't enough that Shelley had her physical handicaps, over the years she had lost more of her self esteem and had given up hope of ever being different. In fact, as you can see by her letter she could only see things getting worse for herself. She held head down most of the time and avoided conversation as much as possible. She had a difficult time finding work and had one six-month contract job over the past four years.
One Monday morning, after about one month of cervical adjustments, she came to me and said she had experienced terrible jaw pain and stiffness for three days and had only just started feeling better that morning. I looked at her and asked if she had just heard what she had said and she almost burst into tears. Her voice had improved to the point where over half of the words were pronounced perfectly and her face was much less distorted. The next week she came in so excited she could hardly contain herself, she said she had left a message on her mother's answering machine and her mother couldn't even recognize her voice.
Over the following months, Shelley's speech and facial spasticity continued to improve and then we noticed that she was walking much faster and with significantly less trouble. Her left leg was significantly straighter and her leg lengths were almost equal. Unfortunately, the irony is now that the foot and leg surgeries she had that were supposed to help her, have left her with a permanent leg length difference and a foot which is attached at a 30 degree medial rotation to her leg!
Shelley is a different person than when I first met her. She now comes in with her head held high, she laughs and chats with people in the reception area and I have a hard time keeping up with her as she walks down the hall.
She holds great hope for her future and is looking for successes in her life instead of failures she had been used to experiencing in the past. She has a full time job and finally seems to be enjoying life instead of hiding from it.
80 Years Young
In 1981 a chiropractor saved me from a wheelchair. After he took x-rays for the severe pain I was suffering he said "The only thing holding you up is your pelvis. Your spine is like a pretzel." The first six months I was receiving chiropractic care twice a week, then once a week, and gradually overtime I was able to maintain myself. Adjustments were only as needed. Eventually, this chiropractor moved to California.
Then I found Dr. DiRubba. For the past three years I have been getting adjustments on a regular basis. Not only do they minimize back, neck, and knee pain, but I no longer have sinus infections or digestive problems due to a hiatal hernia. I will be 80 in February 2006. I feel like I am 60!
My Overall Health has Improved Dramatically
After complaining of a backache for the past six months my mother decided I should go and see Dr. DiRubba, which sounded wonderful but I had not a clue what this meant. So I was examined and had x-rays taken. My diagnosis? I had a Subluxation. A subluhsgdf-what?
Read more from Heather »
Turns out it meant that my spine was not correctly in alignment, and that puts pressure on the nerves in my spine and nervous system. I have been going to the chiropractor for about two months now, and I have noticed improvements. My overall health had improved dramatically. Girls, you know that fun menses thing we get every month that just thrills us? Each time I would have terrible cramps, a daylong migraine headache and excruciating lower back pain, and just a general horrible feeling. Only now the migraine is gone, the cramps have improved, and I adapt better to the changes in my body. Also, the back pain I complained of on a regular basis has improved tremendously; I can stand at concerts and not feel like I should live in an assisted living community after a day at the mall.
I have noticed other changes in my health that I didn't even realize were an issue. My hearing has improved (although I can still claim selective hearing as all teenagers do) my circulation, asthma, sinuses, and allergies have all improved. Taking an active role in my health has been very worthwhile, and I intent to keep up with my adjustments even after my symptoms have disappeared.
Heather
We Were Very Worried…
Katie has always been very active in sports. She just finished up a cheerleading season and had started to run track. I noticed she no longer had breakfast, lunch money was being returned and supper was optional. She had no appetite. Her weight soon dropped; she had no energy and mood swings were occurring. Needless to say, we were very worried.
Katie was also very concerned about what was happening to her. She didn't want any blood test; she has a fear of needles. I was really limited with what to do with her and I knew I needed to do something quickly because although we were aware of a problem, we had no idea of what it was.
I thought a nutritionist might be able to help, but finding one who would not require a blood test would be a challenge. I called Dr. DiRubba and told him about Katie's problem. He suggested we come in and talk to him about how chiropractic could help.
With chiropractic adjustments reducing nerve interference, Katie's appetite is back. She has also gained other benefits that we not even originally addressed. Her monthly periods were very irregular and painful. Today they are much predictable and regular and not nearly as painful. She has also not had a headache, before chiropractic adjustments with Dr. DiRubba she would have a bad headache every other week.
Prior to visiting Dr. DiRubba, I was seriously considering Katie to a gynecologist and possibly putting her on birth control pills to regulate her periods and I was aware that her persistent headaches were beginning to be a problem because she was missing school too often.
Since her visit to Dr. DiRubba, I can see a steady improvement in Katie's overall general health and cannot contribute her progress to anything but her past visits to Dr. DiRubba and chiropractic care.
Get Your Light Turned On!
I am writing you this letter to inform you that after my visit with you on Wednesday, I have had the best two weeks of "wellness". I know this is particularly from my regular chiropractic visits.
I first visited you in April of 2003. At that time, I had been working an incredible amount of hours, suffering from lack of sleep, which was due to being overworked, taking evening courses, and running a household of two small children. Each chiropractic visit I had, I grew more interested in my health. Each day, I worked on a computer, rode my bike to work, studied and played with my children. I started to realize how much my daily activities contributed to my aches and pains. During my visits I asked many questions, all of which you gave me complete explanations for.
Now that I was on a regular program of chiropractic visits I was excited to have my children feeling as healthy and energetic as I was. Both my son and daughter have regular chiropractic visits as part of their "wellness plan". I was excited to see that my children loved coming to see the chiropractor to "get their lights turned on". They couldn't wait to come to the office for their adjustments, as well as their stickers and balloons.
As parents realize, the school year brings more colds and coughs into their homes and children are home sick. I was pleased to see that both of my children had one cold each in the past few months. I am proud to say that they didn't need treatment from antibiotics and a trip to the medical doctor. Actually, they recovered very quickly. I am so excited about my chiropractic lifestyle and my hope is that my family and friends can experience this wonderful healthiness.
As for myself, I have not had a "bump" in my healthy road. My children and I drink water everyday and we eat very healthy. No garbage in… its garbage out for us!
I wanted to share this with you, as we are a much happier and healthier family since we have met you. Thank you for your valuable knowledge, you time, patience, and for being a wonderful chiropractor!
YOU are a valuable component for healthy living!
What Chiropractic has done for my FAMILY
I am pleased to have this opportunity to share with you what chiropractic has done for both my daughter and myself. A good friend of the family expressed to me how he regularly visited with a chiropractor and how he helps children with special needs. I myself have a five-year-old daughter who was diagnosed with a form of epilepsy called infantile spasms at 15mths. My daughter went through many drugs to stop the seizures, brain scans, and numerous doctors. Due to the seizures she wasn't able to teach herself how to manage her body like normal children did with crawling, walking, and learning how to speak. The seizures affected the speech part of the brain and her developmental motor skills. She went through many therapists, speech, sensory, and has gone to special needs classes since the age of three.
I started bringing her to Dr. DiRubba about eight months ago. My daughter is now skipping, walking, balancing herself on beams, and talking. The teachers, all of whom are special needs therapists, are amazed at the progress my daughter has made. There have actually been no seizures and her neurologist also suggested I keep taking her to Dr. DiRubba for regular adjustments. I do believe and have seen for myself that chiropractic helped my daughter achieve her goals.
Specialists have said my daughter will always have issues, and will never be a normal child, and will always be in special needs class. My daughter will be entering a normal pre-kindergarten class next September. I owe this latest development to chiropractic and Dr. DiRubba for making me understand that the spine is connected to the brain, and my daughters issues were mainly with brain activity. I know that she will keep progressing with regular chiropractic adjustments and my daughter will remain drug free from medication.
I myself have suffered from migraine headaches, and back problems due to a car accident. I also see Dr. DiRubba regularly and have seen my progress, of fewer headaches and free from pain with regular adjustments. I honestly believe and truly say that Chiropractic is the answer to any and all ailments of the body.
Elaine
Chronic Migraines
Elise had migraines so severe and chronic that she has not attended school regularly in four years, two of which she was homebound. She was extremely overmedicated which caused a total disruption of this child's life. She had symptoms of fatigue, nausea, temperature insensitivity, ears burning, suppressed appetite, rashes, weakness, dizziness, and tremors. She saw 2 Neurologists, a physiatrist, an ear, nose & throat specialist, an Allergist & rheumatologist (where she received allergy shots for one year), a Nurse Practitioner for a Neurologist, and a Cardiologist. None of which could heal Elise. I then brought her to Dr. DiRubba!
After having her spine adjusted to correct the subluxations, she received her life back after 4 years. Dr. DiRubba explained the process of healing is like that of peeling back layer after layer to get to the core. She is no longer having migraines, her weight is back to normal (the physiatrist had informed me she was anorexic), and she is exercising every day. All of her symptoms have disappeared. Once the nervous system is in balance, the body can fight against chemical, physical and emotional stress.
Dr. D believes in a total well-being approach to health. Vitamins, neck pillow, exercise, regular adjustments, and healthy food will put the body back to its natural balance. I bring my whole family in to get checked now; I am convinced it is the answer to a lifetime of health.
Life After Allergies
Dear Dr. DiRubba,
The purpose of this letter is to document my experience of chiropractic care.
I began feeling seasonal allergy symptoms (congestion, itching, lethargy, sneezing, etc.) about ten years ago. As time went on my allergies became chronic and my symptoms worsened to concentration difficulties, incoherence, bloating, digestive problems, headaches, blurriness, hunger pangs, obsessive-compulsive behavior, weakness, etc.
Over the years, I tried to suppress my allergy symptoms with prescription oral antihistamine whose effectiveness waned. As a last resort, I had been taking nasal corticosteroid and an ophthalmic antihistamine for the past two years before chiropractic care. These two medications only made bearable my situation of suffering allergic rhinitis, allergic sinusitis, allergic conjunctivitis, multi chemical sensitivities, and oral allergic syndrome (food sensitivities). I had become sensitivity to many things beside pollen, dust, and mold.
In addition to medicine, I pursued immunotherapy and Nambudripad's Allergy Elimination Technique. Then, two months ago, I discovered chiropractic care through your practice, which directed me away from these ill-fated paths of mine.
In the short time that I have been under your care, I have experienced beneficial life changes with continual improvement. These include attaining the ability to eat fruits and vegetables, take vitamins, and walk tall with my head held up high. I have stopped using medication, and I continually look forward with expectation to getting more used to foods, every day chemicals and airborne substances.
Whereas I used to carry out each day vigorously because of fear, I am now beginning to do so because of improving confidence, strength, stamina, and lucidity. Chiropractic is not a miraculous system of therapy. The miracle is in discovering it. It is a truth that can benefit everyone if it is practiced by individuals like yourself, an altruistic person of integrity and good counsel.
Sincerely,
Antonio
Engineer
Chiropractic Reflections on a 78th Birthday
Dr. DiRubba has really helped improve my sense of well-being and maintain my energy level since he started treatments in early 1999. I was referred to him by the Trigeminal Neuralgia (TN) Associated to help alleviate the excruciating pain attacks in my face. I've had none for over a year.
Here are some thoughts on my 78th birthday….
1) Why…
Why didn't other chiropractors treat me as he has?
Why didn't any of them take x-rays and evaluate my situation with me?
Why didn't any of them find the serious problem in my upper cervical Atlas?
Why did they always use electronic treatments for recurring spasms?
Why didn't any of them bring an end to my frequent back spasms?
Why didn't they carefully explain the proven value of regular adjustments?
Why didn't even one of them discuss my wellness in a holistic way?
Why didn't I ever reach the level of confidence I have in Dr. DiRubba?
2) What excitement after my second upper cervical adjustment to find after many years I could turn my head both ways to look over my shoulders- rather than turn my shoulders! Not what I went for, but what a nice surprise.
3) What excitement to avoid the occasional MAJOR TN attacks of 1996-97-98-99! Short duration, but I couldn't eat, drink, or talk well. I'll continue my bi-weekly treatments.
4) What excitement to have lower spinal adjustments for over a year to relieve me of customary back spasms with yard work and lifting!
5) Dr. DiRubba is a major influence in my taking personal control of my health and well-being,
An essential care-provider among my resources.
A dedicated practitioner I wish I'd met years ago.
Thank you, Dr. DiRubba for helping me continue to feel and live much younger than my actual years, as I always have!!!
P.S. People tell me I'm aging well, I should! I spend all my time at it.
Down's Syndrome
My son Riley is a seventeen month old child, who was diagnosed with Down's syndrome. Riley has been receiving chiropractic care by Dr. DiRubba since he was one week of age, and we love Dr. D deeply for all of his help. When Riley was born he had two small holes in his heart, very poor muscle tone, problems keeping his bottles down, and would get sick very easily and would recover slowly. Normally, Down's syndrome babies are in the hospital most of the time during the first year of their lives with upper respiratory problems and heart conditions. Riley was there only to be delivered; chiropractic care kept him out of the hospital environment.
At one point, Riley was considered a "failure to thrive baby". Doctors had even talked about putting him on a feeding tube. We discussed with our chiropractor the decision that we were facing. We are all to give Riley more time. At this point in life, Riley was being adjusted daily. We started to notice many changes in Riley. There was decreased nasal congestion and he started getting his teeth like a "normal child". He was now very observant to what was taking place around him and he was not crying all the time as "normal" with down's babies. Early childhood services and the other moms of Down's were amazed with his progress.
I am proud to say, my son is now a very hungry seventeen month old boy who ate his first "real" meal of meatloaf and potatoes with no feeding problems now. The two holes in his heart have completely closed. He is hardly ever sick, and when he is, it is not long and drawn out. My son is crawling and doing almost all of the wonderful things a 17 month-old does. I do not know what we could do without chiropractic care, and I know that it will be a part of my family's health care for a long time.
Chiropractic can help many children with or without special needs.
My Constant Ear-Ache was Corrected Through Spinal Adjustment!
I first started to see Dr. DiRubba in April for a problem with my right hip and stiffness in my shoulders and neck. Since that time the pain has been eliminated and I am walking and sleeping with a great deal of comfort again. I am presently seeing the doctor only once a week.
I have always relied on chiropractic care to alleviate muscular pain and discomfort. With Dr. DiRubba, my discomfort started to lessen after the first adjustment. Dr. DiRubba has an amazingly direct approach to patient care compared to the other chiropractors I have seen. He seemed to know as soon as he looked at my posture what my problem area was. He did not subject me to a series of treatments with electric muscle stimulators, ultrasound or rollers before he started his adjustments. Once he verified my problem with x-rays, he started immediate hands on care to eliminate my pain.
I had not mentioned to the doctor that I heard continual "echoing and water-like noises" in my right ear, or that at times, it was blocked completely. I had started to accept these symptoms as normal for my body about three years ago. I had seen a family practitioner, who in turn sent me to two ear specialists, one in Manchester, CT and one in Hartford, CT. The doctor in Hartford told me, that because I was a woman and nearing forty years of age, I was just imagining these symptoms to get attention! I was more or less told by all three doctors to take antihistamine for the rest of my life to alleviate the problem. I chose to accept the inconvenience of discomfort in place of taking medication.
At the time of my tenth visit I seemed to be experiencing additional discomfort and stiffness in my neck. Dr. DiRubba made his normal adjustments to my spine and assured me that I would be fine. During my ride home I suddenly realized that out of the blue I had a slight sore throat and that my ear was completely unblocked! The sore throat disappeared the next day and my ear remained clear since that last visit with only a slight occasional echo. It never occurred to me that my constant ear-ache could be corrected through spinal adjustment. I was totally amazed and grateful for my newly restored hearing and greatly improved outlook on life.
Pat
Children under Chiropractic Care Not for "BACK" Problems
At our daughter's six month checkup, the pediatrician noticed that she had a moderate head tilt to one side and asked if we had noticed her positioning. He recommended that we seek a Pediatric Orthopedist at CT Children's Medical Center. At first of many appointments, the doctor quickly diagnosed her with Torticollis and recommended six weeks of physical therapy.
Read more from Kenneth and Lynds »
During therapy there were no visible improvements of her head positioning. As we became more aware of her condition, we noticed a pattern from left to right which became very unpredictable over time. With this knowledge, the doctors felt that physical therapy would not be beneficial. They felt the next step would be extensive testing including a CAT scan, blood and urine tests and complete X-rays, all of which came back normal and inconclusive. Their diagnosis was Paroxysmal Torticollis. As she began walking, the Torticollis was affecting her stability. She also had a shy personality and was very moody. Not satisfied with their findings, at her nine month checkup, we requested that she be seen by a Neurologist. After a complete Neurological workup, which included a visit to the Ophthalmologist and ENT specialist, no new diagnosis was found. At our final appointment at CT Children's Medical Center the doctors concluded that her condition was brought on by severe migraines. Their recommendation was to put her on a series of medications on a trial and error basis and chances were that she would outgrow this. Frustrated with this approach and the risk of possible side effects of the medications, we chose not to proceed. We turned to the Internet looking for other forms of non-invasive treatment and found that Chiropractic may be our answer. At our visit to Dr. DiRubba, we were quickly put at ease by his professionalism and ability to interact with our daughter on a compassionate level. After a few visits we noticed that her head tilt was lessening and her mood changed drastically. He has always taken the time to answer any questions and concerns we had and made our daughter comfortable with her adjustments. Two months later, our daughter can walk steadily and has a new personality; her head tilt is slight and improving. We could not be more pleased with the progress he has made.
Kenneth and Lynds
We Are A Happy Family Again
"I'm writing this because I want everyone to know what a relief I have experienced since my 6 month old has been seeing Dr. D. When I first brought him in I was desperate and felt hopeless.
My son was having a hard time. He was not sleeping at night, he had a rash on his face, he was not eating well and he would throw up when he did eat. The worse part was the constant crying. I tried other doctors and numerous treatments, but it didn't help. I spent tons of money, but didn't get any good results. When I told my husband about seeing Dr. D. his comment was "Oh great, here we go again and you have to drive 90 minutes too!"
To make a long story short, Dr. D. changed our son and our family's life within a couple of weeks. My son eats better and does not throw up. He doesn't cry unless he needs me. He sleeps eleven and a half hours at night. He can sit in his car seat or stroller without any crying.
We are a happy family again and I cannot say enough about Dr. D. and his staff.
Fondly, LM
Lower Back Pain from Scoliosis
In 1993, I was diagnosed with scoliosis; however, since I had completed growing, my doctor explained that there was nothing that could be done. Ever since then, I have experienced lower back pain.
In addition to my lower back pain, I have had a bladder problem for as long as I can remember. Because I went to the bathroom over 15 times a day, I went to a specialist in 1999. The specialist disco