Meet Dr. Luigi DiRubba D.C., F.I.C.P.A.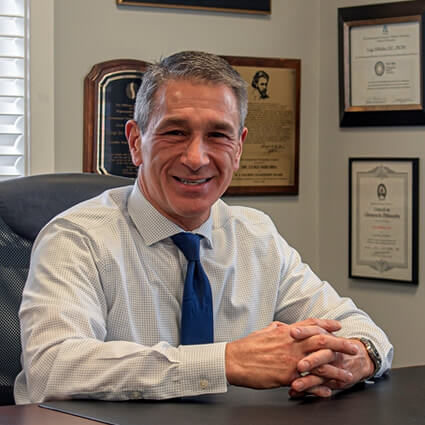 Dr. Luigi DiRubba is a licensed Chiropractor who has practiced in Connecticut since 1993. In 1993 Dr. DiRubba relocated to Cheshire, Connecticut from practicing in New York. Dr. DiRubba's mission has been to lead people to abundant health through principles and practice of Chiropractic care. He assists patients to fully express the best version of themselves, to enjoy active life for themselves and family as they deserve.
Dr. DiRubba has always used a 'whole person approach' to healing and wellness. He accomplishes this by focusing on the underlying cause of health conditions while utilizing interventions and lifestyle adjustments to achieve normal function. By using this unique approach, Dr. DiRubba is able to help his patients accelerate their journey to good health.
Dr. DiRubba was introduced to Chiropractic due to a severe neck injury at the age of 13. He was rushed to the hospital semi-paralyzed with little progress occurring.
While in the hospital, his Uncle Sal suggested seeing his Chiropractor.
Within a matter of days, he began to heal to the surprise of many. Dr. DiRubba continued his care through his teenage years. He recalled one appointment with his Chiropractor and said, "One day my chiropractor asked, 'what do you plan to do with your life?' In typical teenager fashion I answered, 'Haven't figured that out yet.' His response was, 'You have a calling, and you need to be a Doctor of Chiropractic." That is when it all began.
As a Chiropractor, he has had the opportunity to work many families within his community. He has also worked with many performers and athletes traveling throughout CT, NY and NJ over the years.
Dr. DiRubba is actively involved in his profession to better serve his patients. This has been reflected in numerous awards and recognitions on the state and national level.
Becoming a Chiropractor
After attending college at the University of South Florida and C.W. Post College/L.I.U., Dr. DiRubba continued to graduate school at Palmer College of Chiropractic, graduating in 1993. He received clinical internship and preceptorship awards, including outstanding undergraduate and graduate awards from Delta Sigma Chi Fraternity of Chiropractic.
Dr. DiRubba was an Associate Doctor in New York for six months, before meeting a Chiropractor in Cheshire who was looking to retire. He began private practice on December 3, 1993 and has been blessed and honored by the opportunity of assisting many families ever since.
EXPLORE CHIROPRACTIC »
On a Personal Note
I am blessed with 6 wonderful children that are my life.
I love contributing to my profession, either through my alumni association or assisting students to become better doctors. I have been actively involved over the years with the Connecticut Chiropractic Council and the Representative board of the International Chiropractors Association.
After going on mission trips, bringing chiropractic to those less fortunate, I have and continue to lecture to numerous organizations, schools and peers spreading the message of the benefits of chiropractic in every aspect of their lives.
I enjoy sports, running and have a passion for automobiles. But the hobby I enjoy the most is feeding my mind with new things in my life, family and profession. I believe that well-being is a matter of choices; that we are a consciousness having a physical experience.
Thank You God for the many open doors!
Contact Central Connecticut Chiropractic to schedule an appointment.
---
Dr. Luigi DiRubba | (203) 272-3239