Forward Head Posture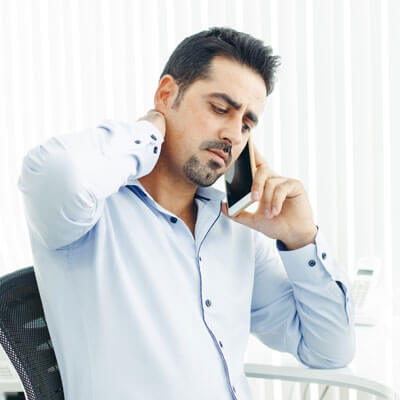 Forward head posture (FHP) is the anterior positioning of the cervical spine and is commonly referred to as "Text Neck". Negative effects include cervical dysfunction, muscle, joint, and neural system sensitivity as well a significant contributing factor in a variety of health conditions.
"Forward head posture leads to long term muscle strain, disc herniations, arthritis and pinched nerves."
MAYO CLINIC
Mayo Clinic Health Letter volume 18 #3, March 2000
"Head in forward posture can add up to thirty pounds of abnormal leverage on the cervical spine. This can pull the entire spine out of alignment."
RENE CAILLIET, M.D.
Dept of physical med and rehabilitation USC
---
"FOR EVERY INCH OF FORWARD HEAD POSTURE, IT CAN INCREASE THE WEIGHT OF THE HEAD ON THE SPINE BY AN ADDITIONAL TEN POUNDS."
Dr. Adalbert Kapandji
Kapandji AI.: The Physiology of the Joints, Volume 3:
The Spinal Column, Pelvic Girdle and Head, Churchill-Livingston
People with uncorrected forward head posture can potentially suffer chronic or unpleasant conditions such as
irritated nerves and blood vessels, thoracic outlet syndrome, muscle and tissue pain, syndromes like fibromyalgia, chronic strains and early degeneration and arthritis.
MODERN MANUAL THERAPY OF THE VERTEBRAL COLUMN.
Lee, D. Principles and practices of muscle energy and functional techniques.
A comprehensive study revealed a significant association between loss of cervical lordosis and decreased vertebral artery function. The decreases included diameter, flow volume, and peak systolic velocity.
MEDICAL SCIENCE MONITOR
Bulut MD, Decreased Vertebral Artery Hemodynamics in Patients with Loss of Cervical Lordosis Med Sci Monit. 16
---
Forward Head Posture | (203) 272-3239